Thursday, October 18 2018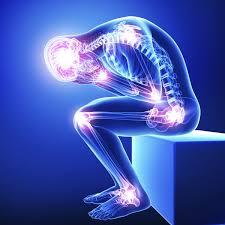 Just recently in the clinic we have been dealing with a lot of painful and inflamed spines, joints and bodies. So for the next couple of series I will make a slight detour from Core Restore Blogs to address Pain and Inflammation. I hope you find it helpful and informative.
Pain and inflammation can make your life miserable!
Pain and inflammation can be out right annoying and have the capacity to ruin lives! Simple things many of us take for granted, such as brushing your hair or getting out of bed in the morning can become painful and arduous activities. Not a great way to start the day. These symptoms can affect your relationships with your family and friends, as pain and inflammation can have a big emotional component, such as changing your mood, withdrawing from social activities, or physical impacts such as impeding playing sports with your children or grandchildren.
These symptoms can be a thing of the past; with comprehensive treatment protocols using natural ingredients, specific exercise prescriptions and simple manual therapies; pain and inflammation can be addressed, reduced and we can start restoring your quality of life.
Inflammation really does have good intentions.
Even though it is a problematic event for most people, inflammation evolved to be a protective mechanism of the body, its sole function is to help our body overcome the original damage or trauma. During an external or internal threat to cells and body tissues, the immune system mounts an investigative and inflammatory response to help neutralise the threat, reduce collateral damage and restore function. This protective process is known as physiological inflammation (meaning it is a normal response of the body), and is usually as short-lived as the threat, such as tissue damage cause by an injury, is successfully resolved and tissue homeostasis (healing) is restored. This form of inflammation is also commonly referred to as acute inflammation and is often associated swelling, redness and pain. With natural supplements, conservative manual therapies we can reduce pain and swelling reasonably quickly and restore you back to "normal" function as soon as possible.
Next we will talk further on Pain and chronic inflammation.